The second day of my Taiwan performance tour
We woke up early in the morning and rode on the bus to head to the middle-west of Taiwan. It was almost a 3-hour drive. I tried to get some sleep in order to save energy.
Prior to arriving at Taiwan, I was feeling worried about the weather. That's because the weather forecast said it would rain by the time we get there. However, when we were already in Taiwan, it was surprising to see that the weather was extremely beautiful—it was a perfect summer season!
As the saying goes, "nothing is perfect." The summer season in Taiwan was fine but it also had its downside. There was a day when it was actually too hot to play flute outside, and naturally, I felt so worried about getting sunburned.
When we arrived at Ansei-fu in Unrin Prefecture, we visited a local temple where we prayed for the success of our performance and for a safe trip as well.
While in the temple, I took the opportunity to get a couple of good luck charms—it reminded me of the omamori, however, this one that they have in Taiwan is made of rice. It's basically a small red bag that contains a few grams of rice. On the outside of the bag, some Chinese characters are printed. It says "peace" and "rice." In traditional Taiwanese culture, these bags of rice are believed to be a gift from God. Yin-san, the tour guide, explained to me that it is supposed to bring happiness to people. I decided to give them to my parents and my parents-in-law.
Afterward, we were invited to a special lunch prepared by the temple's officials. Everything they served looked festive—there were so many mouthwatering dishes on the buffet table! They served rice, chicken, pork, fish, vegetables, and soup. They also had bamboo shoots which I loved so much. They were soft and fresh!
By the time I left the dining hall, the people who came to see our performance have already started to gather. Our performance, which was held outside the temple, started around 3 p.m. I noticed that the space they provided for us was too large that I almost missed the sign of the lead dancer. We would change the song based on the lead dancer's movement and chanting, so sometimes it could be a little difficult to take note of them. After the performance, we marched on the street. I was happy to see that there were so many kids who came to watch us!
We had another performance in the Chao-Tian Temple at night. The Chao-Tian Temple is very much like that of Japanese Ise-Jingu which is the center of people's belief. This temple's Goddess is the Chinese sea-goddess Mazu. She became a Goddess after helping her father from a boat disaster. Before we start our performance we prayed to her. Then we paraded towards the temple and had a performance in front of it.
After dinner, we visited the street that we paraded that evening. On that day, April 27th was Mazu's birthday, so we saw many parades floats there. Many elementary school girls who wore beautiful dress were on the float and tossed us cookies and candies. They sometimes gave us artificial flowers and dolls. The girl who looked really tired strongly threw them, so we had to watch to be safe!. I understand it because the time was already almost midnight. It must be their bedtime already.
I got some snacks and candies and I brought them back as souvenirs for my kids. I enjoyed this parade and it was really a wonderful night to remember!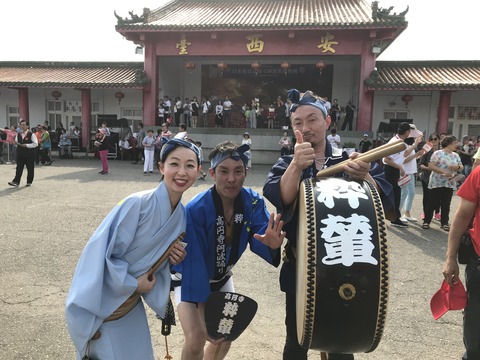 With my group members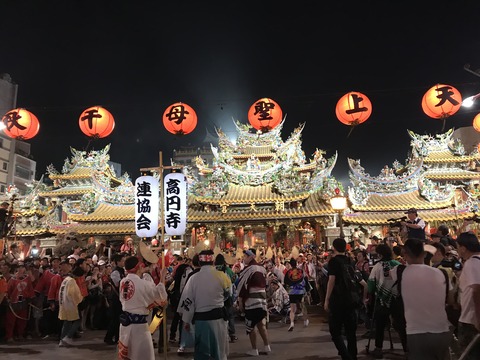 The Chao-Tian Temple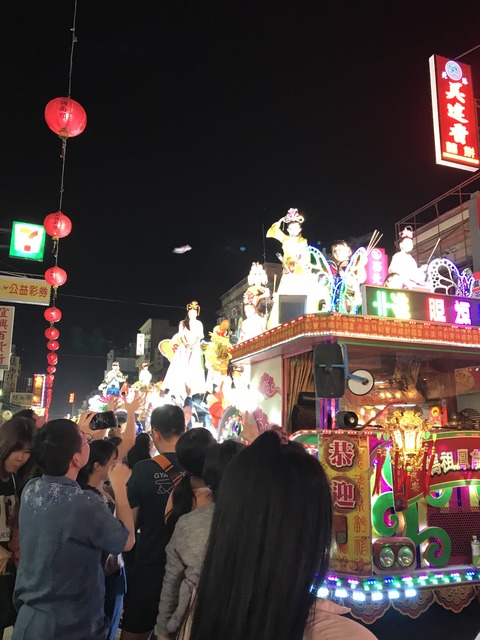 The parades floats